GS series
-Models- GS-30SV/GS-75SV/GS-100SV/GS-150SV/GS-200SV(400v)/ GS-330E/ GS-400SE/GS-450E/GS-550EThe GS series, high-efficiency jet grouting pumps for various purposes. Choise of driving method from motor drive inverter control, which has easy control of pressure and discharge flow or engine drive, which enables high pressure discharge flow depending on your need.
COBRA
-Models- COBRAdriven inverter control high pressure jet grout pump with harmonic countermeasures equipment as standard. Installing a harmonic countermeasure device enabled downsizing of generators. Environmental and economic friendly. Maximum discharge pressure at 45 MPa (35 MPa), theoretical discharge rate at 350 l / min (440 l / min)
Soil Stabilization
-Models- IS-15F/IS-15FA/IS-40F/IS-50FHydraulic driven, high performance compact type ground improvement machine. A powerful construction with outstanding drilling ability with overwhelming maximum pressure and spindle torque. Equipped with a long stroke hydraulic cylinder to pipe clamp, auto stroke and spindle free descent mechanism. Those equipment dramatically improved efficiency of construction.
HBR series Hydraulic crawler drilling rig【Maid in Germany】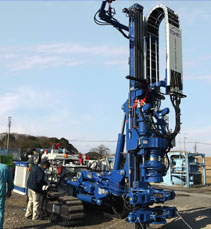 -Models- HBR508-J/HBR502-J/HBR203J
HBR series- hydraulic drilling machine made by HUTTE, Germany. Powerful drilling by bringing together the technologies of Europe. You can select suitable model on your needs, and also possible to customise the design according to your requirements. Please consult us for further information. HBR 508-J Hydraulic crawler type ground improvement machine ※Percussion(anchoring) drill also available Ground improvement machine equipped with 160 kw high power engine. Compact design that can be transported by a container but powerful drilling. Selection of drilling heads suitable for the application, such as ground improvement, percussion drill and vibro rotary. HBR 502-J Hydraulic crawler type drilling machine Percussion drill equipped with an 119 kw engine. Suitable for Japanese customer needs. Compact design but powerful drilling as well as drilling at various angle. HBR 203-J(Hydraulic crawler drilling machinery) High power and compact design. by dividing drilling machinery and power pack. It is possible to enter limiting the height building and to improve ground at narrow place.
ROD CANGER(Manipulator)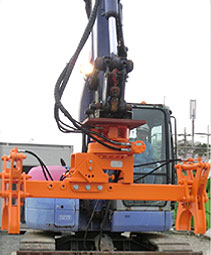 Nowadays safety on site is required,rods has been carried manually. It is possible to improve security by carrying the rods by machinery. It can be attached as an attachment to the backhoe. It is possible to carry the casing rod of φ60 ~ φ256. Because the left and right claws operate independently, realizing high operability. Please contact us.
Mixing Plant
-Models- TMP-300/TMP-500F TMP-1200C/TMP-1500-I TMP-1500APK/TMP-2000A
Mixing plant with outstanding durability and light weight compact design. Choise of different sizes on your needs from 6.6 m³ / h small type, 36 m³ / h vehicle mounted type to 48 m³ / h large capacity type, and fully automatic operation is possible with every model.
Underwater mixer
-Models- SR-4400/SR-4640/SR-4650
High efficiency mixer that can reduce power consumption by 50% or more with quiet driving sound. Propeller structures archived outstanding durability and easy-maintenance. You can choose from various kinds of water currents for many purposes.