Inverter control panel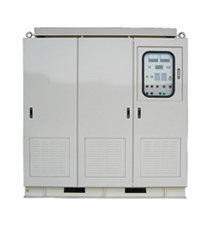 -Models- TMI-2250WH/TMI-4250WH Converting an existing motor load to an inverter increases efficiency, saves energy, and significantly improves electrical power when starting up, enabling a great reduction in power supply capacity and the selection of a minimum sized generator. In addition, we offer a 200V general-purpose system for large motors.
>to Website
Inverter drive -Models- RMG series RM6G series (with communications) [Made by RYMBUSE] Inverter drive that adopts the latest IGBT technology and digital control system. Various lineup corresponds to a large motor which cannot be found in domestic manufacturer. Various functions such as easy-to-use designed operation, adjustment function of analog input signal, and storage function.
Transformer